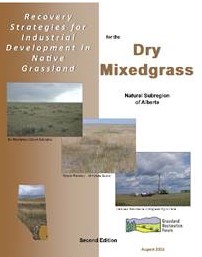 The Grassland Restoration Forum is proud to present the long-awaited 2nd Edition of the Recovery Strategies for the Dry Mixedgrass Natural Subregion (download here).  In addition to updating the document through a multi-stakeholder collaborative processes the digital version has incorporated a sidebar table of contents/bookmarks to make it easier to navigate.  The full colour, spiral bound hardcopies will be presented to all registrants attending the September Workshops as part of the course fees, with an Alternate Recovery Strategies manual for anyone attending both events. 
 
The GRF is also on a trajectory to publish the Second Edition of Recovery Strategies for Industrial Development in Native Grassland for the Mixedgrass Natural Subregion by mid-October.  The GRF mailing list will be notified as soon as it is available -- and keep in mind there are additional savings by purchasing publications at GRF workshops & events rather than the website!
Hardcopies will be available shortly and supplied to all September Workshops Registrants as part of the course fees (with an alternate Recovery Strategies for those taking both workshops).