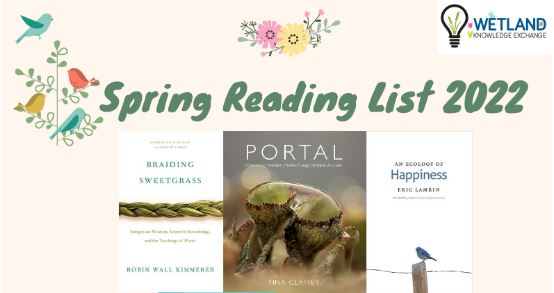 If you're looking to add a few new books to your Spring/ Summer reading list, you've come to the right place! Check out the Wetland Knowledge Exchange's recommendations: 
Newly released (and Upcoming): 
Portal  
An Ecology of Happiness 
Indigenous-led: 
Medicines to Help Us: Traditional Metis Plant Use  
Fresh Banana Leaves 
Plants, People, and Places 
Braiding Sweetgrass 
For more Indigenous-Led Conservation readings, check out Youdelis et al. (2021) Indigenous-Led Conservation Reading List here. 
Miscellaneous: 
Bringing Nature Home: How You Can Sustain Wildlife with Native Plants  
Gathering Moss: A Natural and Cultural History of Mosses  
Nature's Best Hope: A New Approach to Conservation that Starts in Your Yard 
The Nature of Oaks 
The Seed Keeper 
Tracks & Signs of Insects and other Invertebrates: A Guide to North American Species  
---
This resource list is meant to be a summary of some great publications. This list is not all encompassing nor is it endorsed by the CCLM. For more information, please contact g_boston@ducks.ca.